Amaia Steps Capitol Central - LOCATION
Within a 10-kilometer-radius are mixed-use developments of residential, institutional, and commercial establishments. Truly, everything is within reach from Amaia Steps Capitol Central.
13 Kilometers from Bacolod-Silay International Airport.
Accessible to transport stations such as jeepneys, tricycles and ferry stations.
Close to various commercial establishments including upcoming Ayala Land commercial development at Capitol site.
At Amaia Steps Capitol Central, enjoy a leisurely life as you and your kids make splash at the swimming pool, play a game at the play area, jog around the project, or simply relax at the landscaped garden. 
Relish the life you deserve with Amaia Steps Capitol Central! Built with Ayala Land's standards, you can be sure your family gets unparalleled security with a quality, comfortable home that's affordable. Enjoy and step into Amaia Steps Capitol Central!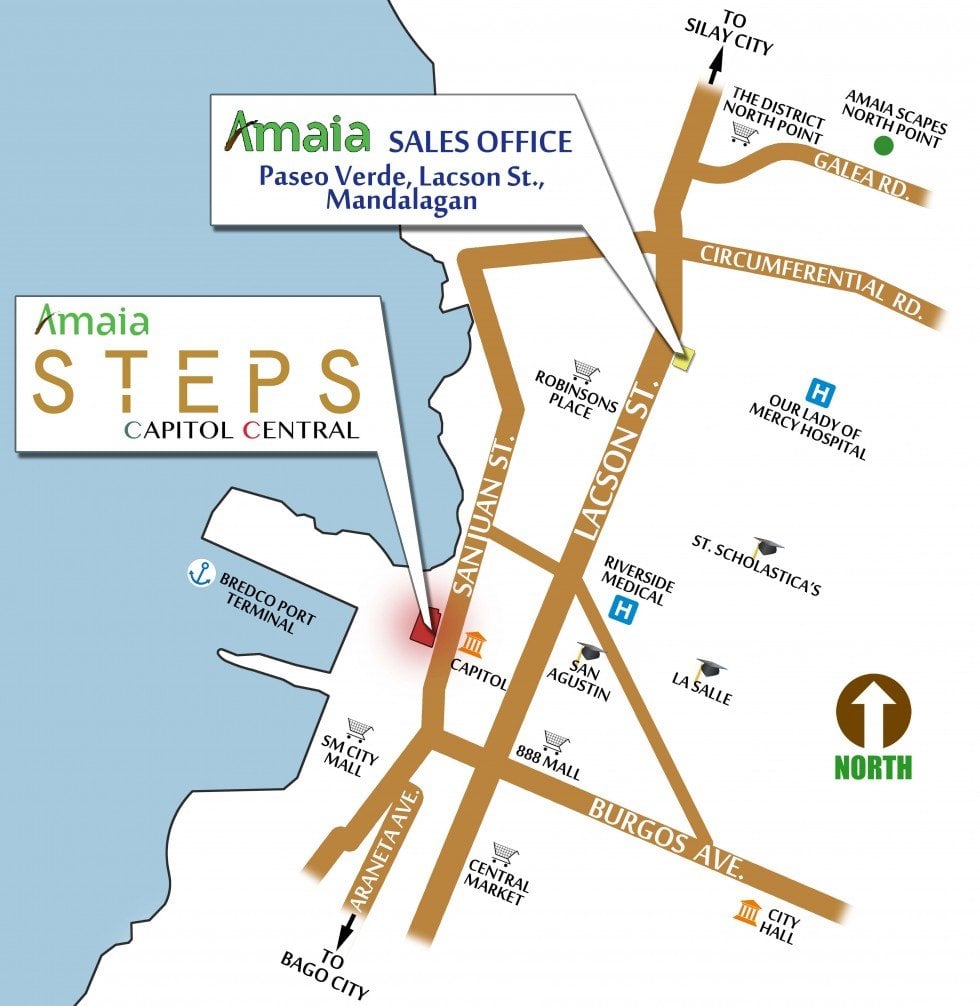 Sometimes, we make compromises when it comes to important life decisions. We often make them to preserve our family, save some money, or prevent any risk or danger to our loved ones. When it comes to our choice of residence, making a decision or several of them are filled with so many compromises, especially if location is to be considered. Thankfully, a home in Amaia Steps Capitol Central will not give you any problems where location is concerned. A residence in this property can take you to the places you need to be in Bacolod City without the hassle of spending too much time on the road.
This property is located along San Juan street, down in the heart of the City of Smiles. As such, you future home in this property will place you near all the important establishments you need to be. All it takes is a casual stroll, a short drive with your car, or a quick commute. Afterwards, you can accomplish all of your errands in no time at all. Time is an important resource these days and having a residential unit in this property will surely help you save a lot of it.
Having everything in the palm of your hands is a handy benefit when you are looking for a home for your family. It's a good thing Amaia Steps Capitol Central makes that benefit into a reality. This property's close vicinity to a wide range of commercial establishments ensures you won't find your domestic life lacking. Some of these establishments include SM Bacolod City, 888 Mall, Robinsons Place, and The District North Point, among others. Along with these malls, there are a lot of markets near this property that offer cheaper rates for your daily requirements. Plus, there is a wide variety of restaurants to offer you a great culinary experience when you don't feel the need to prepare food.
Along with a family's daily needs, your children's education is of paramount importance as well. Your kids' education play a big part in their eventual development and success. That's why it's very important to have a home that's near educational institutions to ensure your child is studying well. Some of these schools include, Riverside College, Colegio De San Agustin Bacolod, and Saint Scholasticas Academy, among others. All of these schools promise a better tomorrow for your children and having a home near them would be a big help to your family.
Homes are not meant to be located far away from places that contribute to your success. They should just be a stone's throw away from you in order to help you maximize your time. Otherwise, you would go under so much trouble just getting to these important places. This is why having a home in Amaia Steps Capitol Central is the best choice you can make. With a residence in this property, you'll be sure your time won't be wasted at all.